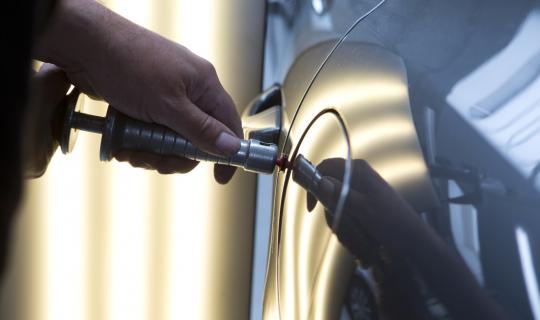 You are on your way to work or your car is parked and suddenly there is a hailstorm. Your car just has to endure it and has suffered dozens of dents. This is not an imaginary scenario, because hail and storm damage is becoming more common in Belgium. Moreover, you cannot go anywhere with this damage or you have to wait a very long time before you get an appointment.
WHAT DOES GO SMART AUTOMOTIVE REPAIR OFFER YOU?
MINOR HAIL DAMAGE
In the event of limited hail damage, our repairers will provide you with honest quotations that are always drawn up with a chart of calculations for hail damage, a standard method for carrying out an estimate/expertise for hail damage.
We repair your hail damage by denting it out without painting, also known as PDR (Paintless Dent Repair).
HAIL CALAMITIES
If a 'hailstorm calamity' has occurred in a certain region of Belgium, we have at least one location available for each province that we can set up as a temporary repair site.
As a customer, you are guaranteed a quick follow-up in the event of calamities. We can do this through a special intervention service that we have set up in consultation with our members. Each repairer makes his specialist(s) available to deal with the damage burden in the affected region.
Because we have our own intervention team ready, we are not dependent on an external company to draw up the total estimate or to repair your vehicle. This enables us to deal with your hail damage faster and considerably more cost-effectively.